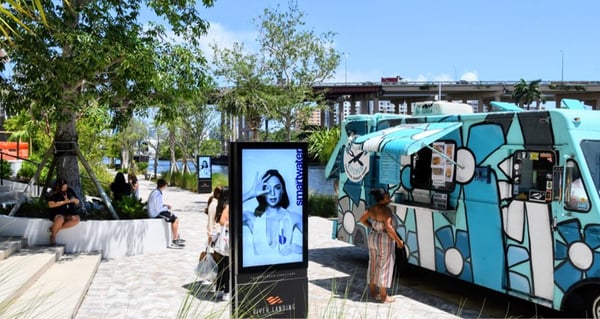 Customer Perspectives: Liquid Outdoor Media
In March 2022, Quantela and Liquid Outdoor Media jointly announced a new partnership to create a complete digital signage solution to expand Liquid's lifestyle network.
The first five of the eight locations marked for phase one deployment will be online this month, including The Pointe Orlando, River Landing Miami, The Shops at Midtown Miami, Midtown Tampa, and Atlantic Village in Florida. Once operational, the data and analytics generated by our Quantela software platform will help to drive automated data aggregation, reduce operating costs, and unlock new revenue opportunities for Liquid and its media clients. This year, four additional properties will be integrated into the network in California and Florida.
As phase one nears completion, we caught up with Paul Ducharme, Managing Partner, Liquid Outdoor Media, for his perspectives on Liquid's partnership with Quantela. Here are a few highlights from our discussion:
Finding the right partner
"It was important for us to find a partner that could do two things. One, to scale quickly financially and, almost as importantly, to help manage that lift. We have aggressive growth plans of trying to achieve 1000 screens in the next five years, and Quantela was the partner to help us get there."
Delivering best-in-class products
"When Liquid brings a product to market, our clients in the media buying community expect a top, best-in-class product. And this is what Quantela is helping us to deliver…new data to our clients, over and above what we're supplying, and populating that in an efficient manner. I think that's one of the greatest features and something that will separate us from our competition. Having that support from the Quantela side and the project management support from Quantela is really the greatest benefit of this partnership."
Driving greater efficiencies
"This solution is going to allow us to source projects faster; it's going to help us close projects faster, get them in the ground faster, and most importantly, start generating revenue quickly. On the portal side of things, seeing all that data in one place is really going to help our operational crew not only develop a better product but deliver that final product to our clients. It's inspiring. It's all stuff I knew we needed, we just didn't know where we needed to go, and we were pleased to run into Quantela."
Next steps
We are currently working with Liquid as they continue to sign development agreements for phase two in New Jersey, California, Florida, and New England.