In January 2022, Quantela and Liquid Outdoor Media jointly announced a new partnership to create a complete digital signage solution to expand Liquid's lifestyle network.
The first five of the eight locations marked for phase one deployment will be online this month, including The Pointe Orlando, River Landing Miami, The Shops at Midtown Miami, Midtown Tampa, and Atlantic Village in Florida. Once operational, the data and analytics generated by our Quantela software platform will help to drive automated data aggregation, reduce operating costs, and unlock new revenue opportunities for Liquid and its media clients. This year, four additional properties will be integrated into the network in California and Florida.
Enhancing Advertising and Marketing Strategies with Data Solutions
In January 2022, Liquid Outdoor Media announced its partnership with Quantela to create a complete audience analytics solution to expand Liquid's Lifestyle-Center network. The data and analytics generated by the Quantela platform aimed to help drive environmental efficiencies, reduce operational costs, and unlock new revenue opportunities along the entire lifestyle network. As part of the deal, Liquid became one of Quantela's preferred digital advertising partners for future US smart city-based projects. This partnership will allow Liquid to leverage Quantela's innovative technology and extensive network to deliver targeted advertising campaigns to audiences in urban areas.
The collaboration has proved to be successful, and Liquid Outdoor's VP of Operations, Vince Lockett, recently shared his experience with the partnership and day-to-day operations.
"Since we started working with Quantela, we've been impressed by their data solutions, particularly the campaign analytics feature.

It's allowed us to easily determine the amount of ad spots and impressions a campaign has received in an easy-to-read format," says Vince.
The impact of Quantela's software on Liquid Outdoor has been significant, allowing them to spend less time compiling post-campaign reports and concentrate more on other tasks. Their clients have appreciated the quick turnaround, and the partnership has enabled them to make changes quickly and effectively.
Looking ahead, Vince sees a lot of potential for the partnership to evolve even further. "There are possibilities to refine and explore new features that the portal can help our digital network analytics. I think we can continue to work together to push the boundaries of what's possible with data solutions."
When asked about his perception of Quantela's brand and services, Vince has nothing but positive things to say. "The team at Quantela has demonstrated a deep understanding of our business needs and consistently works to develop solutions that fit those needs. They are responsive to our feedback and always looking for ways to improve their software. It's been a pleasure to work with such a knowledgeable and dedicated team."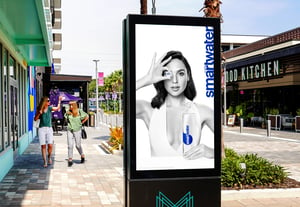 Overall, the partnership between Liquid Outdoor and Quantela has been a game-changer for their business, enabling them to make smarter decisions, improve their campaigns, and ultimately drive better results for their clients.