A city may have numerous objectives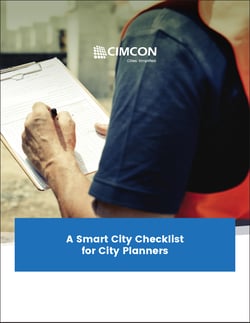 competing for investment and smart technologies can digitize and improve virtually any city service. So how do you start?
To help municipalities navigate their unique smart city journey, CIMCON has spoken with numerous leaders, planners, and managers in communities large and small to collect their thoughts and advice on steps cities should take to help them reach their improvement objectives in a fiscally sustainable way.
This brochure helps you learn from those that have been there before. The paper lays out a step-by-step planning process you can use to to prioritize and implement smart city improvements. Based on advice from smart city leaders, including Syracuse, NY, this paper includes helpful advice on how you can successfully improve your city with smart city technologies.
Download this brochure to discover a 10-step process for approaching your smart city initiatives, which includes advice from city planners on how to these address these steps:
Assess the Situation and Evaluate the Options
Define the Opportunity
Identify and Address Preliminary Requirements
Identify Partners and Allies
Budget for the Process
Build an Integrated Team
Take a Planned Approach
Execute, Execute, Execute
Evaluate
Refine and Broaden
As a leader in smart city solutions, CIMCON has helped improve more than 150 municipalities with the help of smart lighting and smart city technologies. We are proud to share this blueprint as a way to accelerate your smart city journey.